"I had a great experience at Crest Pointe. The staff were very kind, caring and helpful. They truly took care of me in a time of need. From my medical needs all the way through to my therapy needs. Charles, Annie, Joe and Lisa J, were great! As were all the aides, Clarissa, Alexa, Big Bill. Cassie, Kyle and all the rehab staff were very patient with me and did a great job! Truly all the staff at Crest Pointe have been so good to me, including Yossi, Megan, and Abe. To be honest, I will be a little sad leaving and will miss you all!!"
– Tony Maddalone
---
"I came in with Covid and needed TLC being a diabetic. That was the main reason I landed in the emergency room at OUMC before finding out I also had Covid. I was then transferred to Crest Pointe for additional care. The staff was caring and helpful during my time here. The wound care needed for my foot was top notch during my stay."
– Charles Gorrie Jr.
---
"It's the support and personal touch that got me back on my feet! I came a long way from little to no movement due to my fracture. These girls you have on the physical therapy team helped, encouraged and laughed with me on a daily basis. The living arrangements were nice and the food was good so I was happy. The view here is one you cannot beat, along with kind and genuine people. Thank you!"
– Kathleen Kelly
---
I would HIGHLY recommend Kearsley Rehabilitation!
I came to Kearsley Rehab after receiving oral surgery. I had previous knowledge about the services offered so I chose Kearsley Rehab.
The Respiratory & Clinically staff did everything medically and emotionally to help me recover and heal, they went above and beyond.
I would summarize my overall experience as EXCELLENT! I was unsure about recovery but the staff at Kearsley was helpful and therapeutic!!
I was able to focus on properly healing with professional assistance.
– William Taylor
---
Thank you to the staff at Crest Pointe!
"I liked getting to escape my room to participate in physical therapy in the new gym. The staff was excellent and kept me on a routine to get my strength back."
– David Colgate
---
I APPRECIATE THE ATTENTION YOU GAVE TO MY NEEDS!
Harold is currently participating in our pulmonary specialty program under the care of Shore Pulmonary and Stephen Pucci, our certified respiratory therapist.
"I have the utmost respect for the staff here at Crest Pointe. I'm a strong man, especially with a background of 45 years of construction. I appreciate the time given and attention to my needs given my situation. The view is a bonus to your stay here."
– Harold Seickendick
---
REHAB GOT ME TO GO HOME!
"I had a great experience here! I loved the food and the staff. Kim brought me pudding cups every night because I told her pudding is my favorite. I enjoyed all the therapy, especially learning how to go up and downstairs because I live on the second floor. I'm happy rehab got me to where I can go home."
– Thomas Kulick
---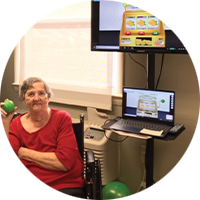 I love watching how people love this program and do really well!
"I like the concentration involved in Restore Therapy. I have to focus and really understand the movements. I felt very confident once I had it down pat. It is a great way to do therapy – I don't even feel like I am doing exercises. I love watching how people who don't like therapy or exercising suddenly love this program and do really well! I think they feel just like I do. They concentrate, get the movements down, and then keep on going because they just can't stop when they're having so much fun! Everyone should do it all the time!"
– Evelyn Basehore
---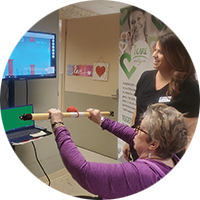 RESTORE Therapy Satisfaction
"I love playing the slots on this program – I feel like it's different than all the other ways that I have to do therapy when I go to rehab. Playing slots and all the other games that the Restore Program has makes me feel like I'm not just doing therapy, but also having fun with my friends, just like I should be doing!"
– Karen Kelly
---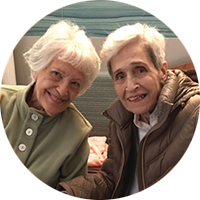 "As best friends who are more like sister, we have been doing everything together for most of our lives.
We've traveled the world and shared the hard parts of life too. It has been great coming here as Gilda gets stronger and better every day and I get to enjoy her time with all the lovely people here. There is a true sense of compassion here that you just don't feel everywhere you go. It is amazing to watch every day and I am glad my friend is here getting to experience it all as she gets stronger."
– Patricia O'Hara
FRIEND OF GILDA
GILDA WHITE, CREST POINTE RESIDENT
"The nurses are so nice and the rehabilitation staff is great. I absolutely love the food and have had a great stay."
---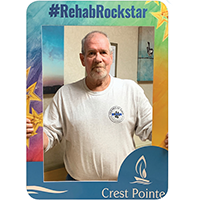 "I am nervous about going home because I have loved the care here so much! The rehabilitation and therapy staff were excellent, truly the best I have ever had. I took pictures of the boats going by and enjoyed it so much.
My favorite thing hands down is the staff. I have made forever friends and plan on coming back to visit them. I have never felt stronger in my life! "
– Kevin Gleason
---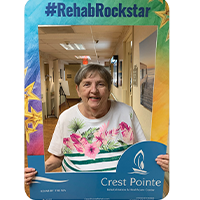 "I am really happy that I came to Crest Pointe to get strong. I had known the facility very well because I worked here a very long time ago as an aide. I was so happy when I returned and the facility was better than I could have ever imagined! I work hard in therapy and get stronger every day, and they are so patient and kind. I even got a new haircut and had all my hair chopped off, to go along with the brand new me I feel like.
I am so excited to go home healthy and strong!"
– Evelyn Basehore
---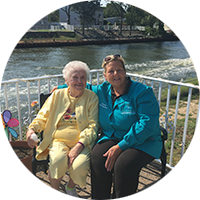 "The food is amazing! I get excited every day to see what my next meal is going to be. It is important to have good food when you are not able to go get your own. The kitchen takes care of everything I ask for. I call and let them know when something is perfect, or if I think there needs to be something changed. I made sure to call after we had pasta with meat sauce – it was the best thing I have ever eaten!
Even my friends that come to visit are impressed with the food that I get to eat every day!"
– Lucielle Mueller
---
"There is something about sitting out here and watching the water that just gives me a breath of fresh air. Nothing beats it, it is so calming."
– Jessie Pichirallo
CREST POINTE RESIDENT
"I have really learned to enjoy spending time with my Mom watching the boats go by and just talking, we haven't been able to do that in a very long time. Thank you for helping with everything along the way. I remember the day that I came in here after touring a bunch of places, and I was so burnt out. But the way that you sat and listened to me, you just got it. You understood what I was going through and let me just go through it and helped me. You knew what I needed and when I asked to sit on the bed and I looked out the window, you knew that I needed to feel what my Mom would feel every day and you made it work for her to have that exact bed. Thank you so much, you have no idea."
– Susan Dietz
JESSIE'S DAUGHTER
---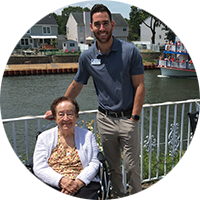 "Since being at Crest Pointe, I have made friends and I have been living in a great atmosphere. The activities have a very good variety. It is so healthy to be breathing fresh air as I sit on the deck waving to all the boats as they go by in the canal. Therapy has helped me very much too – I love going and I love working with Dan. He is a great therapist.
It really stood out to me when I got pneumonia on a Sunday night and the nurse that was on stayed by my side the entire night. She never left my side, even when I was scared. That will always mean so much to me and I will always remember that."
– Anna Alberta
---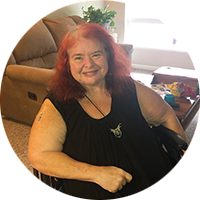 "After five and a half years, happy tears are flowing all day as I say goodbye to all the people that I now call my friends! I worked really hard to get to where I am, but I did it. I didn't know where I was going, but this place gave me direction. The direction I didn't know I needed but got me to today. The staff was incredible from day one. Brendan gave me a hug that meant so much to me. And the water helps tremendously. It has been so calming through the years. I feel like I have never missed a single Jersey Shore summer!
– Kat Collins
---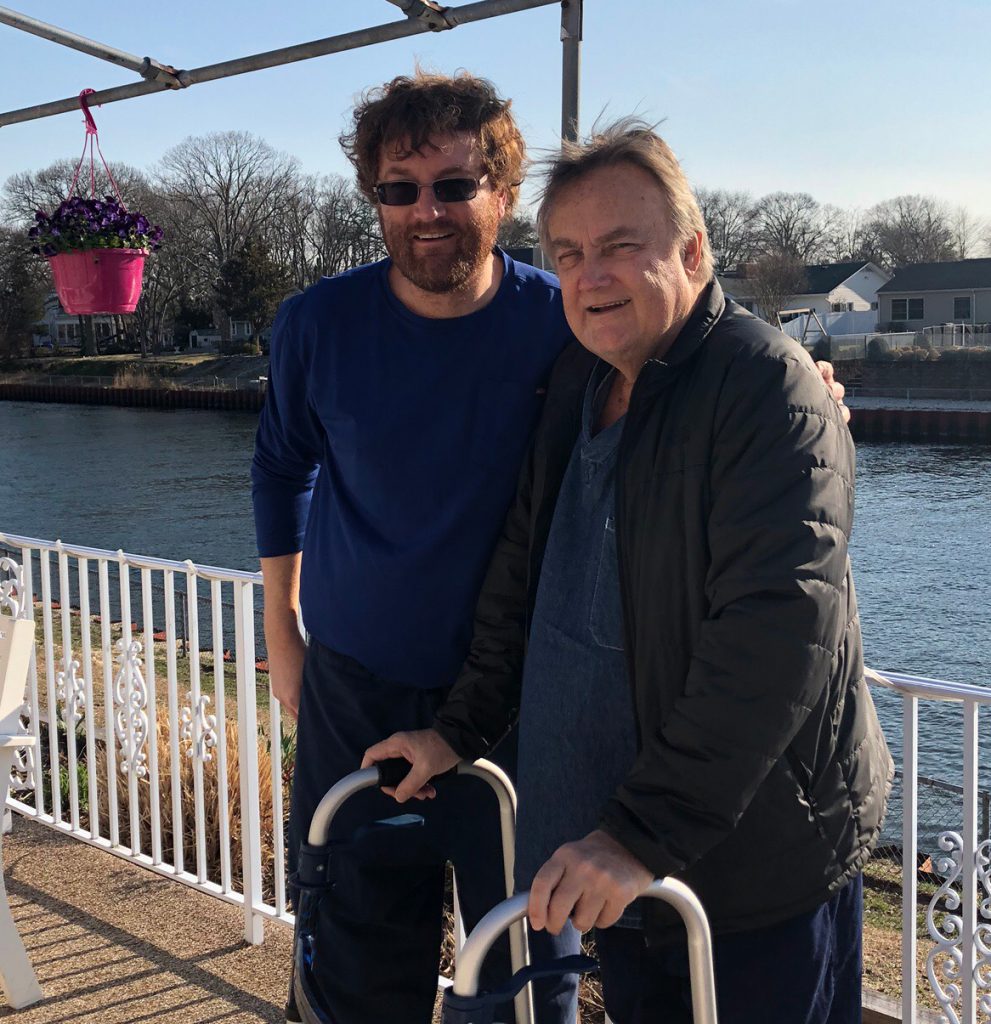 I see big things in the future for this facility!
"I was VERY pleased with my room on the water, so serene! It was a complete mind, body and soul rehab experience for me to be honest. The Rehab staff were amazing: Dana, Margot, Pat, and Christine helped me a great deal and were so pleasant to be around! Kim, the food service director was very accommodating as well. Joe and Amanda were very nice and made my nursing experience a breeze! I loved having my son visit and hanging out on the patio on nice days."
– Gregory Pulley
---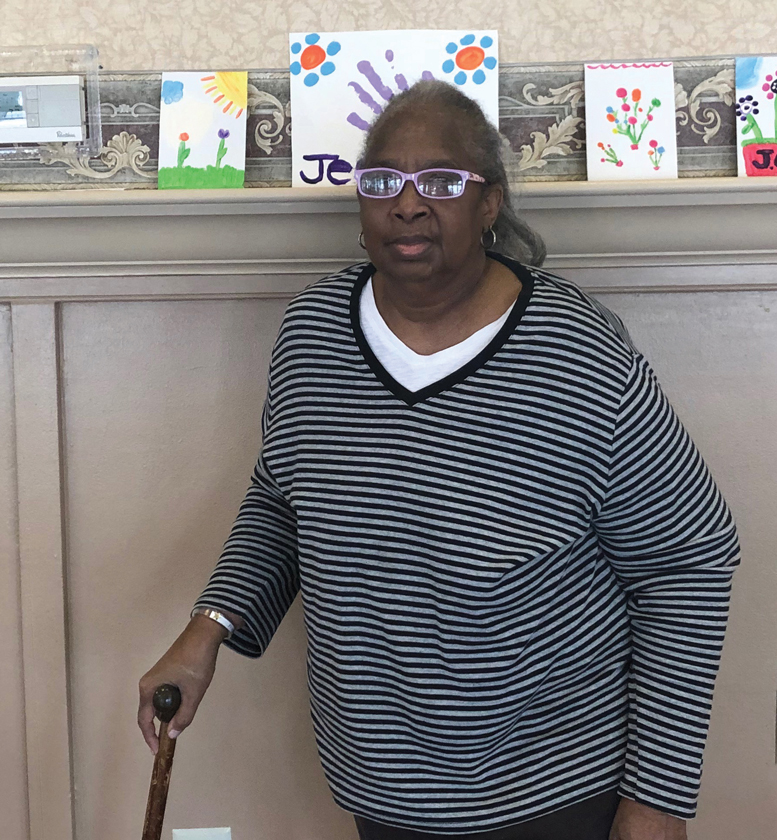 I am headed home to resume life thanks to the great team at the NEW Crest Pointe! I would easily recommend them to anyone in need!
"My stay at Crest Pointe Rehabilitation and Healthcare Center was a great one! The team was just so lovely and made me feel so comfortable. They really make the whole facility. The food was great and you can't forget the view – so peaceful."
– Bonnie Fisher
---